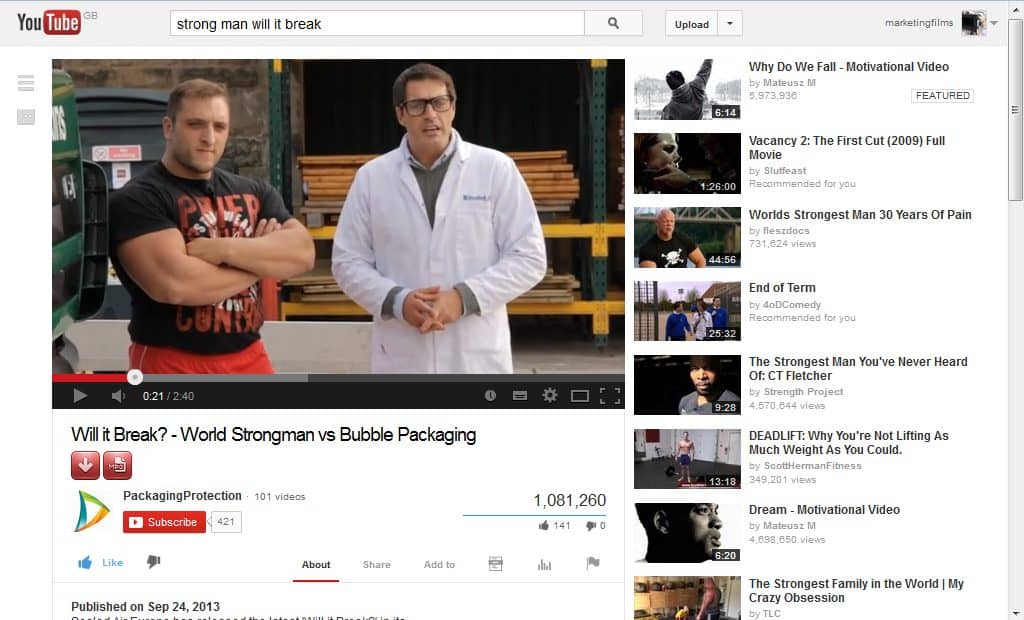 You tube is the king of online video and has now become a highly used search engine in its own right – mainly for people looking for reviews of certain services or products before purchasing them.
A couple of tips that makes your you tube channel more relevant to you tube (and ultimately Google too).
Find other peoples videos that are relevant to your own and leave comments (e.g. a photographer commenting on camera reviews) – you tube prefers users that use the site more regularly and comments are a way of proving you use it a lot but more importantly if these comments link back to your channel, making you more important due to relevant content.
Always put your website URL in the description box of all your uploaded videos on your channel – making sure you include the http:// (as this is what makes your link live & click able) – so if anyone finds your video they can find your site straight away
Add keywords people would use to find your website / video BEFORE uploading it to you tube – 'photographerliverpool.mpeg' instead of 'johnsmithphotography.mpeg' – makes it easier for you tube to find your videos in search results
YouTube transcribes your video and allows you to edit the text – add keywords you want to be found in in the transcription so YouTube can read it when searching for results.
The most important part of getting found on you tube is tell everyone about it! Even if they wont watch your video, people still might forward on the link to someone who might be interested (the essence of viral marketing).
You want to keep people coming back so don't throw all of your videos on at once! Upload one a week, or a month. If you don't have the budget to keep producing videos, produce 12 little ones rather than one big one when you produce your film and then keep hold of them and upload one a month – or week, depending on if you are in if for the long term or short term.
Mix your videos up – have some giving some free advice and other that are funny / interesting so you broaden your audience.
Succeeding in you tube takes time so be patient and stick with it, its very rare people get large numbers of viewers straight away – every channel that gets loads of views started at the same point of you, they just thought out of the box and stuck with it, make sure you do too.
Ignore bad comments! The internet is filled with idiots looking to be nasty. Just ignore them, if you are not insulting anyone then you are going to get one out of 100 people being a idiot. You can always delete comments you don't like (but don't obsess about it!).
Use royalty free music – you tube is smart and recognises copyrighted music and will either delete your sound completely or replace it with something weird. Always respect copyright in video production to stop you getting in trouble in the future.
Make sure your best video is the one auto played on your channel first if someone clicks on it – you can arrange your videos on your page.
Most important – make good videos that people will actually watch! Even if they don't care what you do right now. They will remember you afterwards!
If you would like a quote for filming, go to our prices page to find out how much you can produce videos for.
Yellow Video Production 2019 – Video Production Liverpool