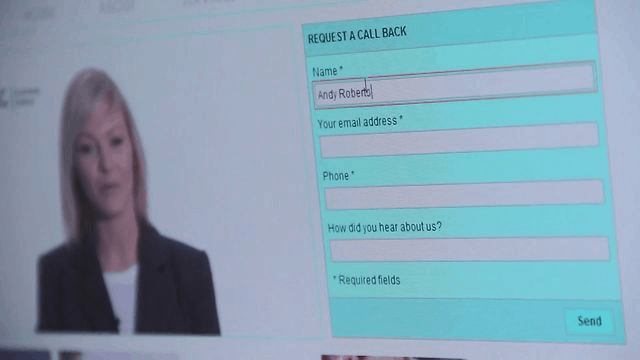 A video on your website can explain what you do, what your client's think of you and how professional you are in just 60 seconds.
If you are putting a lot of time and money into getting people to visit your website, you might be wasting your time no one actually gets in touch!
Video drastically improves conversion rates (the ratio of people contacting you after visiting your website) so rather than help get more people to your site (even though it can – more on that later) your video with push them into filling out a form, sending an email or picking up the phone.
Call to action
Video is always most effective when it is placed next to an enquiry form on your website with a compelling call to action.
This is because the video should answer all the questions a viewer should have (so no need to browse around the site – keeping people's attention is the key to higher conversion rates) and then the convenience of the enquiry form being right next to it will result in a lot more people filling it out.

Your video and site design should point to the form and a still image should pop up when the video ends with an arrow pointing to the form with text saying something like 'Ask a question now!' etc.

Just make sure you provide a reason why they should fill out the form right away 'limited offer', ' runs out Tuesday', 'we can only do it for 100 people' etc – this type of wording that gives them a deadline will increase the amount of people who get in touch.
Don't make them wait!
If you are using the video on your website, try to keep your video file size
small so people don't have to wait for ages as it loads (they won't) but if your video is quite large, upload the video to YouTube or Vimeo and use the embed code from the uploaded video to play them on your site – you will then use their bandwidth instead of your own websites to get the video played as quickly as possible.

Your web designer should be able to do this easily for you – or if you know how to embed html code into a site, Vimeo and YouTube lets you get the code from the video easily.

Tip to use in practice
I always suggest producing at least 2 videos for your website – a main
promotional video explaining the benefits of your service and one that shows a step but step guide of how the service is carried out or how the product works.

Then use the latter as a 'exclusive' video that only people can watch by sending over their name and email address.
The days of someone just clicking through to a website and spending hundreds or thousands of pounds straight away is over – so you need to try to start a relationship with them instead.

So as mentioned, I would suggest having a enquiry form with a 'watch a video showing how you can grow your business!' (or whatever is relevant to you) to get their email address.

Once they have filled in the form, email them a link to a page with your video and place a advert for a special offer next to it, so should they be interested straight away after watching the video they know what to do.
However, if they don't want to buy there and then you would of got their details so you can start emailing them information about your company weekly.
Auto responders like Aweber or Mailchimp allow you to send these emails in a sequence automatically.

You can do it as often as weekly as long as you make sure it is interesting information emailed over (sending them to new videos on your site is best for this and place the videos again next to another
advert), don't just send sales stuff or people will unsubscribe.

Sending interesting, usable information that clients would appreciate helps build this relationship and regularly sending them emails keeps you fresh in their mind when they decide to buy.

Grow the relationship and grow their trust before showing them an offer which they can't miss out on.
If you would like a quote for filming, go to our prices page to find out how much you can produce videos for.
Yellow Video Production 2019 – Video Production Liverpool