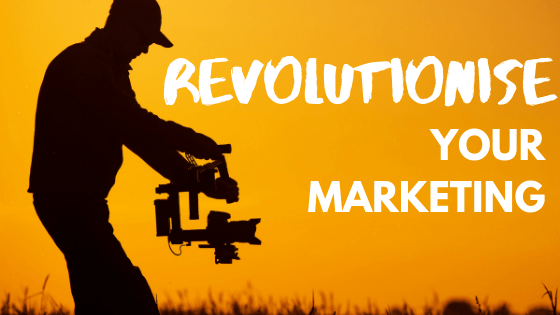 By Shaun Bishop
Your potential clients do a huge amount of research on your company, service, or product before they pick up the phone, fill out a form, or start a live chat through your website. And guess what, they're probably shopping around too, doing the same with your competitors.
Videos in every area of your marketing or online presence can give them an immediate sneak peek into your brand and what it's like to be your customer before even picking up a phone or writing an email.
Of course, figuring out what video content to create can be a full-time job, but it doesn't have to be. Creating a content and video strategy built around what your customers expect to see and then want to see, can help you produce the right type of videos for your business and businesses goals.
It won't be a one-and-done type deal. The days of the 15 minute company promo that gets shown to all new employees or displayed in reception on loop are long gone and a new era of producing relevant engaging content has been born.
Every 3 months, we review what gaps our clients have in their video content and make a plan to see how we can help them produce and distribute these videos to ensure the highest impact and depending on the business goals, the best result.
The key to success here is simply knowing that you don't need to produce hundreds of videos every month to make an impact. You can keep the effort manageable and build it up over time.
We've compiled a list of the types of videos your business can utilise in multiple areas of your marketing.
1) Product or Service Video
All the videos on this list are important, but to have a product or service video detailing all your benefits and how your product or service solves a specific problem is a definite. Host or embed the video on your website, Why? Because prospective customers can not only watch your video but also read about your products or service and will really understand its full capabilities and value. Also, any questions or information they may need can be accessed quickly and easily by navigating your site.
Video viewers said they retain the message behind a product or service when they watch it in a video, compared to when they read it in text.
You probably already have a brochure or product catalogue detailing your USP's, so by repurposing this content into a short product or service video, your potential customers will actually remember your company and the message you wanted to convey to them. It's a win-win.
Try not to get bogged down with adding all the benefits and features of your offer. I know you feel all of these USP's are important but think about what's most important to your customer. Highlight 3 of the main benefits and try and keep duration to 1 minute 30 tops if possible. We want to keep watch time and retention high and have the viewer wanting to know more and take action.
Here is something we have produced for a company called GS Systems:
2) Company Explainer Video
Your explainer video is a peek behind the veil of your organisation to see 'the who's, the whats and wheres of your business. It's a great opportunity to get your executive team and employees in front of the camera so they can talk about the heart and soul of your organisation and what makes it unique. If they want to of course…but that's a whole different matter and a blog for a later day.
Your company explainer video only needs to be 2 minutes long and can include B-roll shots or photos of your team working together in their offices, at their desks, and even out in the field doing what they do best. This video personalises your brand and helps potential customers put a face to the people they will be working with or buying from. People like to work with people, so let the personality of your employees shine through.
3) Sales Video
How much time does your sales team dedicate to setting up or travelling to demos with leads and potential customers? By creating informative and entertaining demo videos for your sales team you can reduce this time dramatically.
But think outside the box. It could be one of the first points of contact with your business this prospect has had, it shouldn't be your standard demo video sharing your screen and a voiceover from an enthusiastic employee. Instead, start the video like you are in a face-to-face meeting and show the team member who is giving the demo. You can make your demo videos more dynamic by showing a human face and other shots in between product views. With interactive demo videos, your sales team will be able to cut down the length of their sales pipeline and can focus on doing what they do best — building relationships with your customers
Here's something we produced for a company called Parent Apps….
4) Social Media Marketing Videos
You would have seen a huge increase in the amount of video content you see on social media. So why not get in on the action and start using video on your social channels if you haven't done so already, since video on social media has shown to increase post engagement and conversions significantly.
Your social media videos should be treated a little differently than the other ones in your toolkit. They should be short (30-45 seconds or less), should have imagery that catches the viewers attention, and should get to the point of the video in the first five seconds. It's also a good rule of thumb to deliver your videos in a couple of different formats so they can be uploaded to things such as Facebook and Instagram. Look to see what dimensions and ratios work best for these platforms. You don't have to spend hours creating and producing videos for social media either. You can simply grab your iPhone and use video creation apps that can help you put things together in a quick yet aesthetic way.
Here is a social media video we produced for Buchanan Optometrists
5) Corporate Social Responsibility (CSR) Videos
Doing great things in the community? Employing young local talent? Raising money for selected charities? Let the world know about it!
Customers like to see that the company they have invested in is giving back to its community in some way or another. It validates their decision to choose you over your competitors and gets people right in the feels.
Some companies nowadays have employees or even departments dedicated to CSR and regularly hold charity events, schemes and fundraisers to engage with the community they are based in. If you are one of those companies capture it on video, take pictures and create a slide show, post the video out on social and host it on your website. The more opportunities for potential clients to see what ethos and values run through the company the better.
Here's something we produced for Liverpool John Moores University:
6) Case Studies and Testimonials
And I have saved the best for last in my humble opinion. Otherwise known as 'Liquid Gold', case studies and testimonials put your customers in front of the camera and tell the story of how your business has affected their lives, in their own words. Nothing has a more profound effect on a potential customers' buying decision as hearing from someone in a similar situation, recount how your product or service has solved a problem they were having and has made a positive impact on their life.
Add as little or as much production value to these as your budget can afford but remember to try and not script their answers, it's obvious and does not come across well. Pick customers who are outgoing and talkative and above all else sing your praises highly. If possible try and include shots of your team interacting with the client, the client using your product or service and make sure you see lots of smiling happy faces.
Here's something we produced for SRO Solutions:
So that's it, 6 types of videos that can help revolutionise your marketing and provide a great return on investment. Although time consuming and a little daunting at first, video can provide the uplift your business needs and freshen up how potential clients view your business and the service it provides.
If you would like help in implementing video within your business contact a member of the team today and we can look to action one of the above videos quicker than you can shout LIGHTS, CAMERA, ACTION.
So click the link and let's have a brew, a chat and GET A QUOTE FROM YELLOW HERE.